If You are among the Candidates that will be writing Business Studies in the upcoming KCSE exams this year, review these past papers as It will be of great help. When You download the PDF of the KCSE Business Studies Past Paper 1, Business Studies past paper 2 and Paper 3 for 2015, and start practicing It consistently You will see good results.
The past Papers (1,2,3) will prepare You for the upcoming 2020 KCSE exams, and We believe that past questions are really worth It in revising for KCSE examinations. There are no new questions, it's just a repetition of already-set questions but in a different tricky form.
KCSE Business Studies Past Papers 2015
If You decide to buy the past revision Papers from us, the content of What You will receive for every order are as follows
Past Question
Marking Schemes
Predicted Questions
We will send the Past Papers PDF to your email for You to download and study. But If You download the free version on this page, certainly the marking schemes may be limited and obviously the KCSE prediction questions are not attached.
If at any point You experience difficulty in either downloading the paper 1, paper 2 or paper 3, feel free to drop a comment below and We'll respond accordingly.
Kenya Certificate of Secondary Education Business Studies Past Papers
2015 KCSE Business Studies Paper 1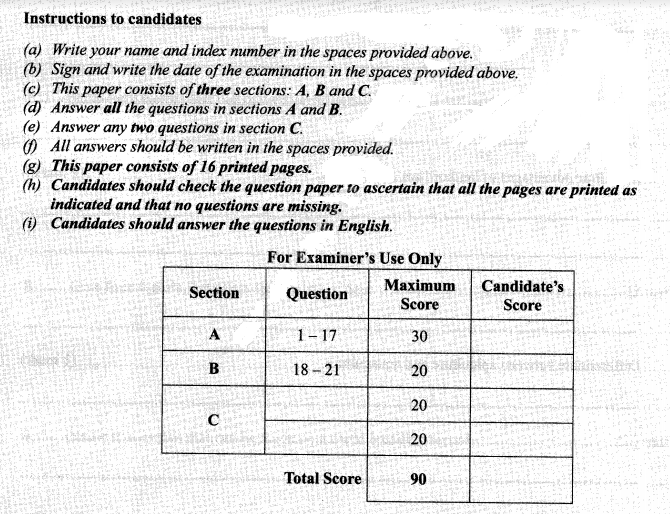 What are the reasons that Would make an individual engage in business? (4 marks)
(a)
(b)
(c)
(d)
2 List four types of utility and the production activity associated with each of them. (4 marks)
(a)
(b)
(c)
(d)
3 Outline four Ways in which the office facilitates effective handling of documents.(4 marks)
(a)
(b)
(c)
(d)
4 Highlight four factors that may influence a consumer to purchase products from a kiosk rather than a supermarket. (4 marks)
(a)
(b)
(c)
(d)
5 State four circumstances under which hire purchase may be used to acquire goods. (4 marks)
(a)
(b)
(c)
(d)
6 Give four reasons for the increased use of mobile phones in banking.(4 marks)
(a)
(b)
(c)
(d)
7 Outline four methods that the Government of Kenya uses to regulate business activities.(4 marks)
(a)
(b)
(c)
(d)
8 State four disadvantages of using internet as a means of communication. (4 marks)
(a)
(b)
(c)
(d)
9 State four differences between life assurance and general insurance.(4 marks)
10 Give four reasons for observing ethical practices in product promotion. (4 marks)
11 The graph given below represents the demand and supply curves of milk: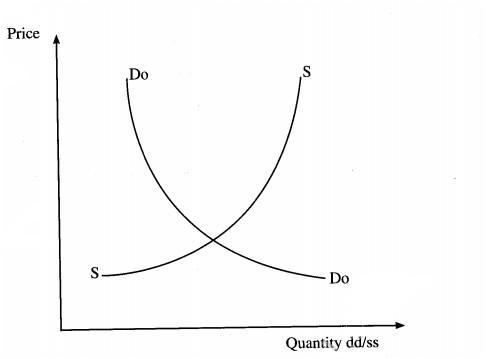 State four effects of a shift of the demand curve to the right. (4 marks) (a)
(b)
(c)
(d)
12 Outline four disadvantages that a manufacturer would suffer if Wholesalers were eliminated from the chain of distribution. (4 marks)
13 The following balance sheet was incorrectly prepared:

Prepare a corrected balance sheet.(4 Marks)
14 The following figures relate to Jumbo Traders for the year ended 31.12.13.

Determine the capital as at 1.01.13. (4 marks)
15 Identify the ledgers in which the following accounts are maintained. (5 marks)

16 List three levels of inflation.
(a)
(b)
(c)
17 Name the documents described by the statements given below as used in International Trade: (4 marks)
(a) Requests for payment before goods are delivered
(b) Shows ownership or title of goods imported
(c) Shows the country of manufacture of goods
(d) Shows the transportation charges for goods
18 The following Purchases Returns Journal relates to Farasi Traders:

Post the information above to the relevant ledger accounts. (4 marks)
19 Outline four goals of development to a country (4 marks)
(a)
(b)
(c)
(d)
20 The following information relates to Kahawa Traders as at 31st December 2012.
Prepare a trading account. (5 marks)
21 State four reasons that make it necessary for firms to maintain a healthy environment. (4 marks)
(a)
(b)
(c)
(d)
22 Highlight four benefits of a business plan to an entrepreneur. (4 marks)
(a)
(b)
(c)
(d)
23 Outline four benefits of sea transport over air transport. (4 marks)
(a)
(b)
(c)
(d)
24 In which ways can an investor benefit from the stock exchange? (4 marks)
(a)
(b)
(c)
(d)
25 State three clauses found in the Memorandum of Association (3 marks)
Business Studies
Paper 2
1 (a)Explain five uses. of National Income Statistics to a country.(10 marks)
(b) Discuss five principles that would lead to effective use of government resources. (10 marks)
2 (a) Explain five ways in which the consumer may benefit from warehousing.(10 marks)
(b)The following information was extracted from the books of Mamboleo Traders in the month of September, 2014.
September 1 – Had cash in hand, Shs15,500 and a bank overdraft of Shs 9,700.
September 3 – Bought goods for sale Shs 12,300 on credit.
September 5 – Sold good in cash Shs 8,500.
September 9 – Sold goods on credit Shs 10,000.
September 12 – Received a cheque of Shs 9,000 from a debtor.
September 15 – Paid a creditor Shs 10,000 in cash.
September 17 – Paid wages Shs 2,600 in cash.
September 19 – Received a cheque Shs 23,400 from Samson for goods sold in January.
September 20 – Received Shs 6,700 from a debtor in cash.
September 23 – Withdrew Shs 7,700 from the bank for office use.
September 24 – Paid electricity bills by cheque Shsl ,200.
September 25 – Received a cheque of Shs1l,50O from a debtor.
September 26 – Made cash sales of Shsl2,800 .
September 27 – Purchased goods worth Shs 8,950 in cash.
September 28 – Deposited personal cash Shs 3,500 into the business account.
September 30 – Paid water bills by cheque Shs 2,800.
Required:
Prepare a two column cash book. (10 marks)
3 (a) Describe five characteristics of a monopolistic competitive market. (10 marks)
(b)Explain five features of human wants. (10 marks)
4 (a) The following trail balance relates to Chui Traders as – at 31st December, 2014.
Required
Prepare Trading, Profit and Loss Account. (10 marks)
(b) Explain five methods of determining the price of a product other than price control. (10 marks)
5 (a) Explain five trends in office management. (10 marks)
(b) Explain five advantages of government involvement in business. (10 marks)
6 (a) Explain five benefits which may accrue to Kenya by being a member of the African Development Bank (ADB). (10 marks)
(b) Explain five features that are common to underdeveloped countries. (10 marks)
If You want the marking schemes, send Us an email at: [email protected] indicating your the subject and your name and We will guide You on How to get the documents.
KCSE Business Studies Paper 2
->> Click Here to download Business Studies Paper 3 PDF
KCSE Business Studies Paper 3
->> Click Here to download Business Studies Paper 3 PDF
After a successful purchase of the past Papers It is time for revision. Put in your best and get the best out of your KCSE Exams.
To purchase the Past Papers, Go to the Matric Exam Papers Master Page
Navigation Panel:
We guess this information on KCSE Business Studies Past Papers was really helpful, tell Us What You think in the comment session below. We wish to hear your views, do not forget to use the share buttons below to share with friends.